Would you believe me if I said that I had grand blogging plans for this weekend gone by?
It's true.  On Friday I returned home from work, looking forward to having the whole weekend off, catching up with blogs, and my fave TV shows.  But it wasn't meant to be.  A Virgin Media engineer had severed our TV and internet connections, and Virgin couldn't send an engineer to sort it until Monday.  That's right, friends, a whole weekend without TV and internet.  If analogue TV was still happening I could have at least watched some of the original channels before Murdoch and Branson took over the world.  Friday night I was out for the evening at a work reunion so that was no biggie.  But Saturday morning I sulked in bed, reading my rubbish book.  I did finish my book though.  And it transpires that I can, in fact, survive a whole weekend living in the 1950s since my only connection to the outside world was via radio.  I even got in touch with my cultural side, albeit briefly, and read The Times newspaper's Saturday and Sunday editions.
Luckily Monday night all was well again, and my shift's plus the technology gods have allowed me back here to blog on this fine miserable Hump Day.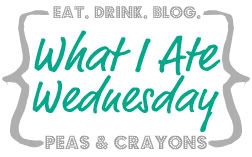 Since it's a Wednesday, I may as well join the WIAW peops and show you most of my eats for a day.
Exhibit 1: A light pre-early shift breakfast of GF toast & sunflower seed butter, with grapes and kiwi.
***
Exhibit 2: Packed lunch of some kind of lentil and rice stew, raw carrots, afal.
***
Exhibit 3: Snack on return home from work.  Corn thins w. PB&J.  (Obvo more than this was consumed in one sitting).
***
Exhibit 4: Stir-fried kale and carrots with rice (somewhere underneath there), tofu and cashews.
***
Exhibit 5: Dessert.  The whole bag.
***
Finally, Exhibit 6: One of these.  I always keep a stash in my locker at work, and have one in each bag.  So I munched on one of these whilst wandering home after work.
There you have my WIAW: The early shift snack-fest. Vegan style.
Happy hump day!